Thanks for listing me
First photo of my VF1000F 1984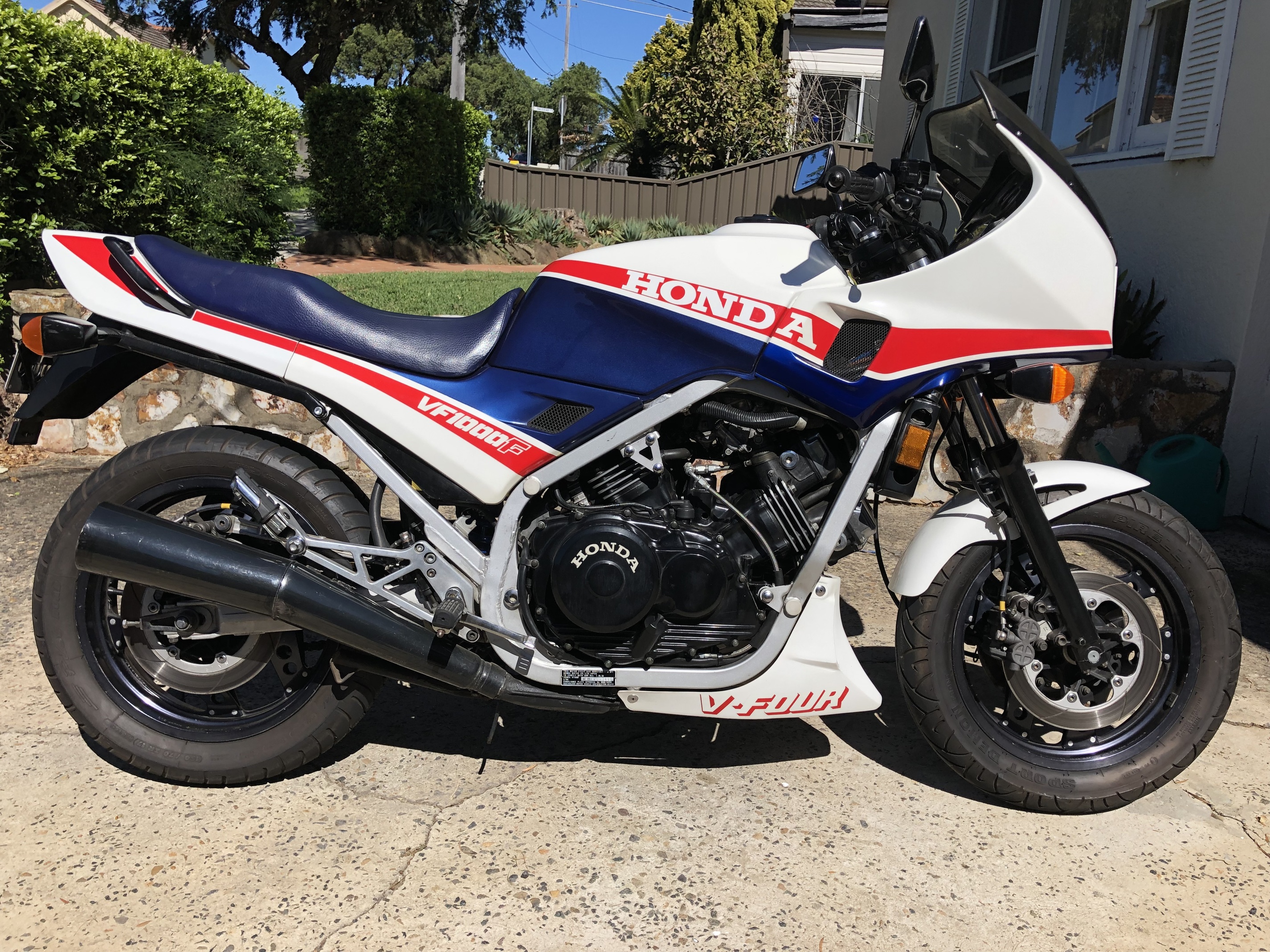 Hi Tony, welcome to the forum that looks like a cracking fe.
Welcome Tony that VF looks very nice!
Beautiful, I'm hoping to find one exactly like that, had one back in 84.
Hi Tony, What a fabulous looking VF1000! My Favourite bodywork and looking remarkably un molested from stock!! Congrats!
I see the drill and tap of the main oil gallery top end oiling mod and a rear end lift.What shock are you using on the FE?
Regards Bif
Don't know the oil galleries were modified so the cams would get extra oil. The rear shock is wilbers
Thanks it has a few little cracks in the fairing and a mark on the tank which I'll get fixed after Easter. I received the new petcock today so at least I will be able to ride it after I install new fuel lines and the petcock and get the fuel issues fixed
Don't know the oil galleries were modified so the cams would get extra oil before I bought it. The rear shock is a wilbers.
Hi Tony,
yes nice looking FE. From the background it looks like you may be in Aus?
It would be interesting to know how many VF people on the Forum from Oz? _ Bif can you tell from profiles?
Cheers
G
Hi speedygp
Yes mate, Sydney Australia. well spotted. What gave it away?
I can check with the top tech guy PAJ
Not everyone includes a location in their profile data so I can't say for certain how many members from down under are registered. A members "map" would be cool though…
I've updated my info to include a location, I also think a map of members would be cool.
I grew up in the old Steak and Kidney myself, must be the overall effect of colorbond fence, sandstone rockwork, power lines, concealed asbestos!
I'm pretty close to getting my vf on the road again, and envious of Bif and mates Scottish run etc- What about we start considering a VF ride day around Sydney?
yeah that'd be great give me some ideas when your VF is on the road and I'm very keen
Cheers Tony my Mobile 0456556333
Tony OR. Sydney Australia, I have updated my profile
If you decide to expand this proposed Sydney run to include Canberra, I can join in with an F2. We could meet up in the southern highlands or Kangaroo Valley…maybe Wakefield Park

Cheers, Frank
Absolutely great idea, sounds good.