What end can would work with a 4-1 exhaust configuration on vf thou. ANY IDEAS?
I've a Devil can with muffler.It's a bit noisy but not offensive.
planning on fitting a delkevic DS70 can, think its going to be both loud and offensive :o…
I couldn't say which cans would work or not, exhaust's technology is a mystery to me, i think you just have to aim for on that's designed for a bike of around 1000cc with a 4-1 system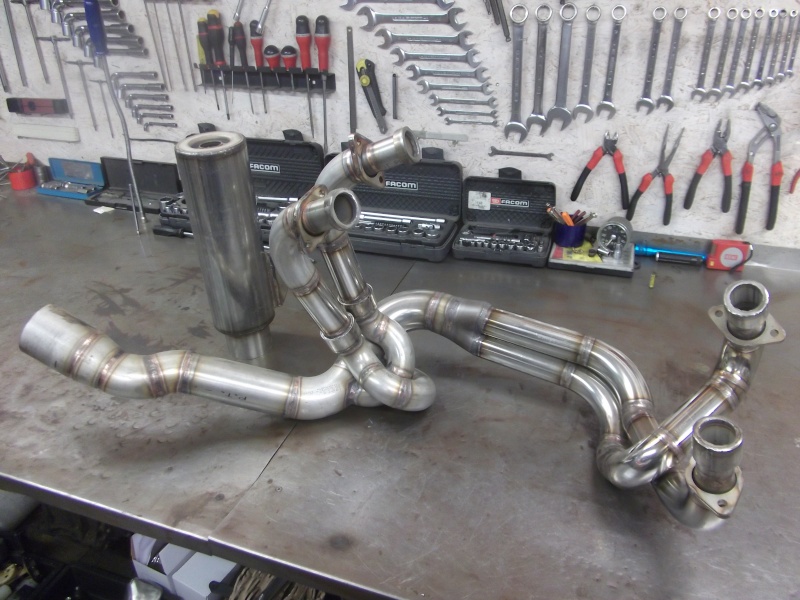 Here is the 4/1 s/s exhaust system built by Ecko for our fellow member JVA… It'll be polished before delivery.
that fred, is a thing of beauty :P,… if i ever win the lotto i will have one.
All that needs is a bowl of Bolognese wrapped round it and its good enough to eat. I hate to think of the price to make it ??
A mere £590… Not that expensive considering the amount of work involved!
yes fred, i think that is a reasonable price for a full hand made stainless system…
My God Fred, that's peanuts for the skill and expertise involved. Did you get my "P.M. " about Paul Ricard and Easter ?
Martin
Got it,Marmite.

We will be at "The Sunday Ride" with the club and we'll have a nice accommodation place so all of you are welcome!
That 4/2 is beautiful, where did you get it from. :'( ;D
Fredster got his one in Nederland,JVA and Jojo Lacase,photograph underneath had their from my friend Sam who runs ECKO in France.
I love Fredsters 4 into 2,would he share his supplier and the cost with us?
I have been in touch with OS pipes and frankly the quality of their work can't touch that of Fredsters collector.
The difference between tig and mig welding really shows.
OS want £240 in advance for their offering,this is the collector Crooky was selling.
Regards Bif
I've been restoring my Vf1000R for just over a year now & could do with some pipes, 4-2 or 4-1 (just love that ECKO pipe!). I can't seem to be able to google these manufacturers - any more info on their websites please?
Dave
Thanks, I'll try & contact him.
Cheers, Dave
Anyone who has a lead on the manufacturer of Fredster's 4-2 collector? I'd love to know more!
Due to my 1000FF rusting out it's JAMA system just before it's MOT I'm experimenting to build a 4:2 direct replacement collector box, with off the shelf components that should not cost the earth, and should also work quite well. This should also be adaptable to the 400, 500, 750 and 1100, as well as the 1000, with suitable reducers. I'm also looking at the possibility of replacement front/rear downpipes, in stainless as well.
It will be all stainless/hard chrome, and each component should not cost more than £30 to replace. It will comprise of 5 parts (plus mounting hardware), as follows.
H Balance Pipe.
T Piece x 2
Exhaust exit x 2
This will be a direct fit to the standard pipes. and will also exit exactly as the current collector box does. It will be a little smaller as well, and will come with fittings (as and when i can find off the shelf brackets to fit)
It would also be possible for me to do a 4:2:1 system if there is enough interest, with the ability to mount the silencer either side of the bike. Would there be interest for this? Would there also be interest in the downpipes as well?
C.
I am interested have 2 vf1000 waiting for collector boxes count me in please