[size=18pt]The new forum software has some new features.
[size=14pt]Welcome
If you are reading this hopefully you have also logged into the new VF1000.com Owners Forum - congratulations!

If you cannot login, try resetting your password by using the forgotten password link at the login page.
[size=14pt]User Profile
First update your user profile and save it, even if you don't change anything, save it so that the default settings are saved in the new database. To do this click Profile -> Forum Profile. Review the settings and click Change Profile to save. Goto notifications and select your notification settings.
[size=14pt]Mark as Read
All the old forum posts and data have been imported to the new forum. All the posts will be shown as NEW, click mark read in each forum to mark them as read - no longer new.
[size=14pt]Notify
You can be notified of new posts or topics by clicking notify in the forum you want to subscribe to. Your notification settings in your profile must be enabled for this to work.
[size=14pt]How to add a photo
You can include a photo already hosted somewhere by copying and pasting the internet URL of the photo i.e.
http://honda.vf1000.com/images/VF1000F.jpg into your post. Select the URL and click the image button.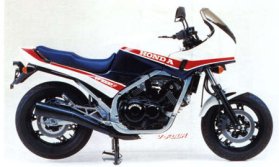 You can also upload images straight to the forum and they will be included in your post, just click the attachments and other options link. Other files can also be uploaded and attached. As of 2017 photobucket images no work when linked to external sites, please use another image hosting service.
[size=14pt]How to add an eBay link
You can link directly to an eBay item, just paste the ebay item number into your post, select it and click the ebay toolbar button. i.e.
[ebay]290984310311[/ebay]
[size=14pt]How to add a YouTube video link
You can embed a Youtube video into a post by pasting the video url into your post and clicking the embed button i.e.
[embed=425,349]http://www.youtube.com/watch?v=sI1_Me4eXT0[/embed]