I will be there on the Saturday but can only have one day off at the weekend as i will have to work the other.
Will be in the IOM at TT at end of May so have a choice to make, , cancel my trip and lose several hundred £s or meet with some like minded VF1000 owners …mmmmmmmm sorry next time maybe, TT is my religion !
I realised myself that it would clash with the IOM TT although I dont think the VF weekend is set in stone yet, I had considered going to the TT this year, I hav'nt been since I was a kid[:(]
yep… i can be flexable too, any weekend suits me.
OK Peeps, well make the date change from that weekend in June to another. Ill look at the diary and post it later.
I havnt done the TT yet but obviously its a "bucket list" item for any motorcyclist.
Martin
Just a note for any TT virgins or havn't been for a long time, start thinking about next year now for accomodation and May for ferry for 2014. It is really tight these days for Hotels, B&B etc even campsites. Get busy ! I left my ferry booking until I returned last year and had to take dates earlier and later than I really wanted. All well worth it though !
Im going to plum for the <u><b>27th and 28th of July</b></u> for the revised meet up. Is that good for most of those who think theyll try and come ?
Martin
hi martin, yep those times are good for me, they normally have the lotherton hall VJMC show around that time, i was going to enter the vf there this year but it seems like there is some doubt as to weather it will go ahead this time, anyway i will give the vf meet up priority over that.
yep 27/28 july still good for me but if anyone fancy's bring a bike down for a tour round the peak district park before then feel free, It would be great to see these bikes out together on a run
quote:

---

Originally posted by radicalrabit

yep 27/28 july still good for me but if anyone fancy's bring a bike down for a tour round the peak district park before then feel free, It would be great to see these bikes out together on a run

---
hi radical, when the weathers decent one of my regular routes goes to the top of the snake pass (A628 where the AA box is) just before it drops down towards woodhead, i used to go up around holme moss tv mast but the last time i was up there was a few years ago and there wasnt much road left, just pot holes… when weathers a bit better will have to arrange something.
I would also be keen on meeting up. Will keep an eye open for the Honda day at the Ace as well.
A bit nearer to the agreed date before I can commit, but deffo interested still.
July 27/28 is good for me too. How about in Whistler, BC? Are those
the peaks you were talking about.
Looks like it's gonna be a one man show for me.

Hi Sik, wed be over like a shot if we could find a sponsor. I expect youd manage the same this way if you could also find a sponsor !!
Pip Pip
Martin
Well if you can be at the NW 200 on the 19th or in Douglas from the 22nd to the 26th, give me a call! Sponsored by 25 years of marriage!
Hi folks,
Was blissfully unaware that this forum existed until yesterday when I met one of the members on his VF (sorry, didn't catch your name) and he told me of this meet. I've got a VF750C Magna (83 US vintage, shipped over 10 years ago) and would love to see and hear a handful of these on the go at the same time.
I'm in the east midlands (Long Eaton) so please count me in, if that's OK.
Might I suggest one of the campsites at Hulme end in the white peak. There is good road access, reasonable price and right next door to the Manifold Inn which is one of the best pubs in the country.
http://www.hulme-end-campsite.co.uk/
Cheers…P
Hi Pablo, nice to hear from you and thanks for the local info. How can we not go to a bike meet called the Manifold Valley !
I was out on my FF this afternoon and had a thought ( theres no need to be rude !) We could all meet at my place near Wootton Bassett in North Wiltshire on the 24th July if its location was suitable for most ?
Weve got space for camping and on Friday / Saturday night we can sit up in our small summer house (shed) having a BBQ - drinking whatever takes your fancy overlooking our little lake. If the weathers good itll be brill and bloody cheap. Theres my garage if people want / need to fettle their bike while the others can ride round these parts on some great roads. Weve got Stonehenge, Avebury close by and -or the superb Haines museum near Yeovil for a longer ride.
No worries if its too far off the central location, I just thought it might be a cosy ( and cheap) alternative to a pub.If Long Eaton sounds a better location thats fine by me, Ill go there with you blokes.
What you people think ?
Martin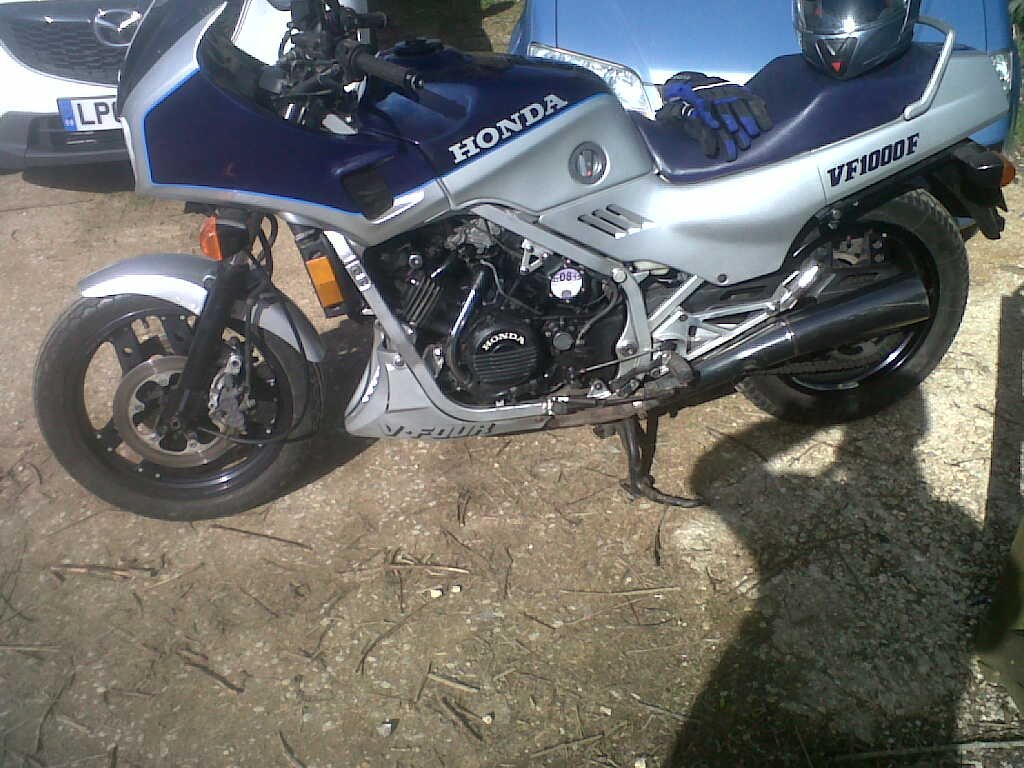 Hi,
Thanks. Wootten Bassett is a lovelly part of the world and a part I have not visited enough. I'm more than happy to visit…happy to go with the flow.
I've now read the preceding posts properly…If you want to meet up Coalville, the Vic http://www.vicbikerspub.co.uk is one of the best places to go. It can be quite loud, but it's 100% biker pub, the food is decent and it's very friendly. Just an idea.
I've only got one photo of my VF on the computer http://i285.photobucket.com/albums/ll64/pjmmcc/VF750C_zps9ddf4980.jpg I must take a few more.
Cheers…Paul.